Dear Job Seeker,
What employers want most is people who already have training and experience.
Ethics are the key to getting what you want out of life.
There was a day when that was true. But no more.
Studies show the greatest concern of companies today is not training or experience, it's ethics. Ethics are the rules of right and wrong.
Workers today drive business people crazy with stealing, tardiness, lying, vandalism, refusing to follow instructions, goldbricking, breaking agreements, harassing other workers, and insulting customers.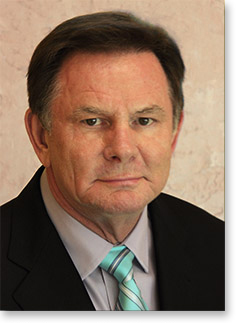 You know how awful this disaster is. You've seen such outrages yourself many times.
So have I.
My name is Richard J. Maybury. I am a professional researcher in business, economics and related subjects. My books have sold more than a half-million copies, and been endorsed by former U.S. Treasury Secretary William Simon, former Congressman Ron Paul and other famous business leaders. I've been interviewed on TV and radio more than 350 times, and had over two million words published.
I also own three successful businesses, so when it comes to hiring, I am the voice of experience.
Employers have learned the hard way that just one person without ethics can sabotage an organization. Look what happened to Wells Fargo.
If an employer knows nothing of your ethics, he or she will be reluctant to hire you. But if your ethics are impressive, you will have a big edge over your competition.
How to get a good job? Give employers evidence that you know how to be ethical!
Millions don't. In the public schools, the teaching of ethics was made illegal in the 1960s. (See the books Last Chance For Our Children by former California Superintendent of Schools Bill Honig, and Yes Virginia, There Is Right And Wrong, by sociologist Kathleen M. Gow.)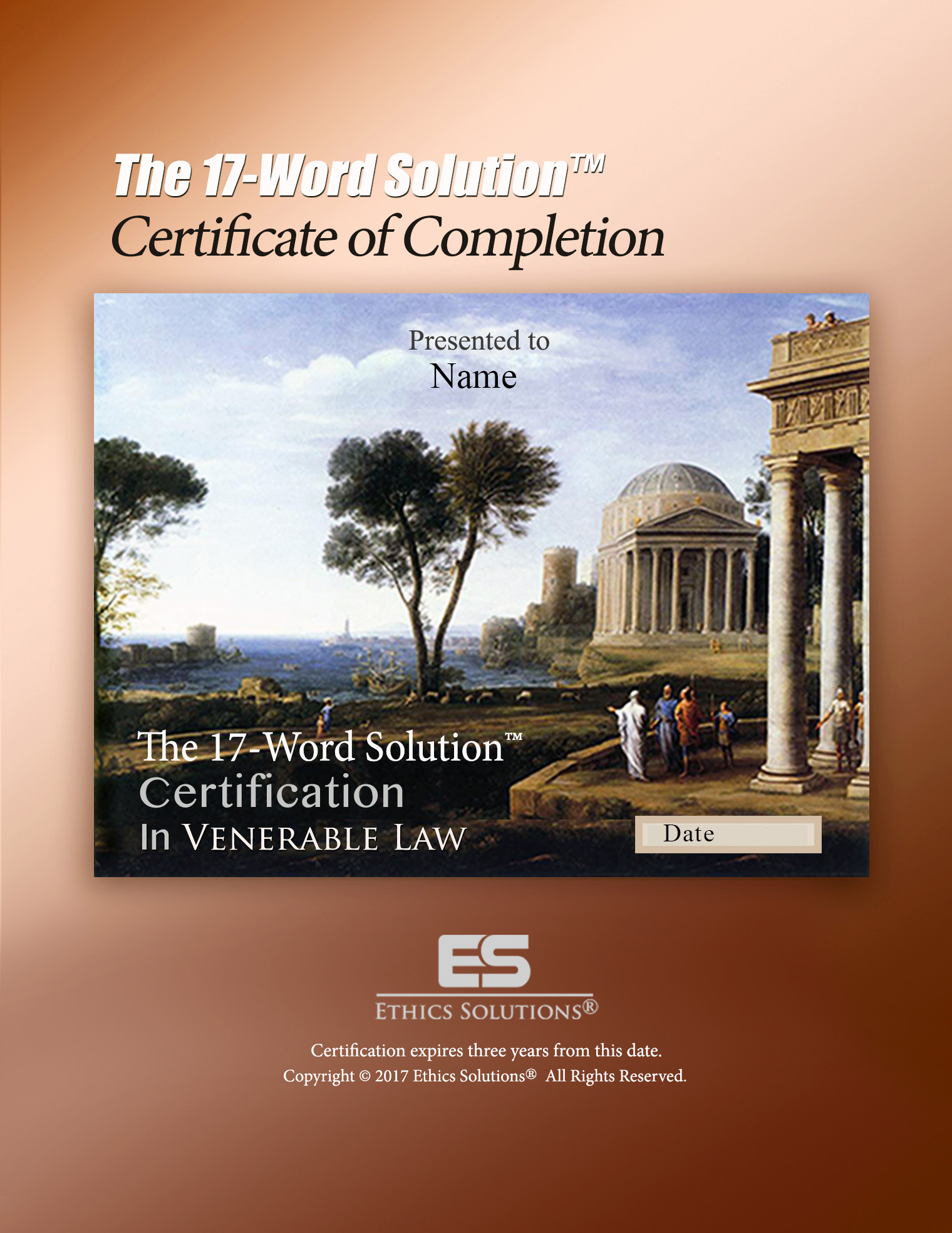 Certificate 8x10
It's that simple. These days, ethics makes you stand out as someone special, a cut above the rest. You are a quality person.
Believe me, when I hire, I make ethics my top priority, and other employers are learning to do the same.
So, I have developed a way for you to prove you know how to practice good ethical judgment. It's called Ethics Solutions®.
To walk in the door of an employer's office carrying an Ethics Solutions® Certificate is to offer solid evidence that you have the most important thing employers want: an understanding of how to practice good ethical judgment.
Here are the five steps to getting hired for the good job you want so much:
1. Spend about two hours reading our Ethics Solutions handbook.
2. Answer the questions in the Ethics Solutions assessment. This will take about a half hour. You're allowed three tries. When you achieve a passing score of 70%, you are instantly awarded the Ethics Solutions Certificate.
3. Having earned the certificate, attach a color copy to your resume. Our web site allows you to print as many Certificates as you wish. You are also entitled to write on your resume "Certified by Ethics Solutions®". If you achieve a score of 90%, "Certified Top Rated by Ethics Solutions®".
4. Follow the customary advice about an interview — good grooming, nice clothing, arrive early; see "20 Tips for Great Job Interviews" at experisjobs.us, or Google "how to do well in a job interview."
5. Now you are trained and ready. Walk into the interview carrying your Ethics Solutions certificate, handbook, and resume.
Available only from Ethics Solutions®, this concise, revealing handbook helps you explore the fascinating but forgotten world of ethics.
When you show the certificate, the employer may ask what it means. Be enthusiastic. Give impressive examples of what you learned from the handbook.
For instance, use Post-It notes as bookmarks for some of the most helpful pages. Leafing through the handbook, say to the interviewer, "on page 22, I learned why I should always do everything I agree to do. On page 47, I found out how important it is to avoid gutter language. On page 23, I discovered why I should never be lazy, and on 24, always arrive early."
The enlightening yet simple handbook explains 38 other topics you can use as examples of your ability to practice standout ethical judgment.
Tell the employer, "The handbook is brilliant. It taught me the importance of a promise. Give me the necessary training and experience, and I promise to do my best to be one of your finest employees."
Thousands of employers are desperate to hire workers who are honorable. Once you have an ES Certificate, don't be surprised if they are desperate to hire you!
Your ES Certificate also shows you have the energy and boldness to tackle new challenges — to go the extra mile — to be the kind of worker employers need. When I am hiring, that's the type of person I look for.
Don't delay, get started now. The sooner you begin, the more quickly you can get the great job you want.
The price? Normally it's $99.00, but if you take advantage of this special limited time introductory offer, it's half-off, $49.50. For the price of two pizzas, you gain a better chance at a job that will pay you thousands of dollars more each year.
More than that, ethics are so important that a thorough understanding of them will improve your life in ways you never dreamed of. You will not only have more rewarding jobs, but better friendships, affairs of the heart, trustworthiness and prestige.
You will be admired!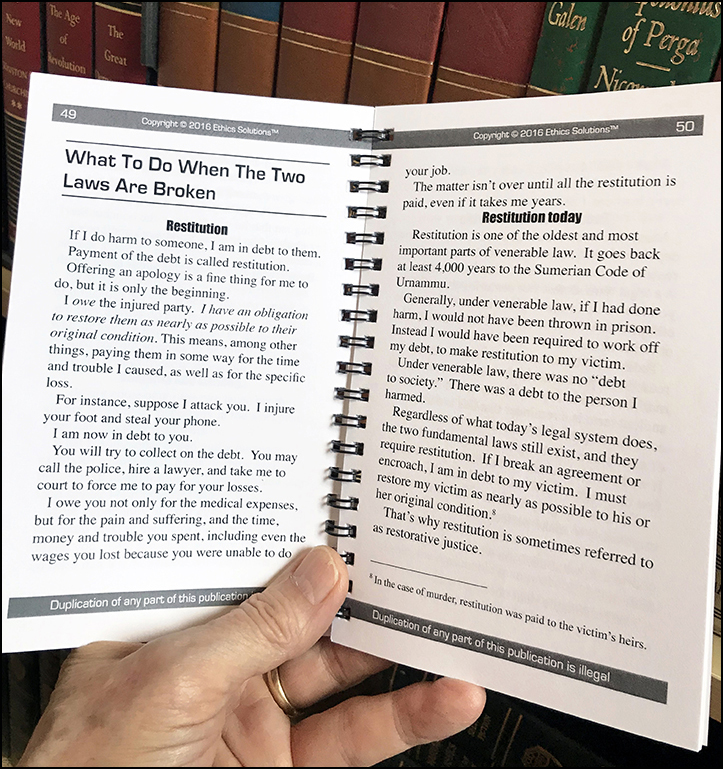 Know what to do when The Two Laws are broken! Order Now!
Order your Ethics Solutions training kit and personal confidential Access Code to take the assessment and receive your certificate when you pass.
ORDER online, or call 877-226-1263 between 7 a.m. and 4 p.m. Arizona Time, Mon-Fri. To receive 50% off, mention "ES offer number 313."
Ethics is the new national crisis. Spread the word that you have made yourself into one of the solutions.
Best Regards,

Richard J. Maybury
Creator and founder of Ethics Solutions